Welcome! Thank you for taking the time to view my portfolio. I have a created a variety of visuals ranging from traditional to computer graphics. Please email me if you have any comments or questions.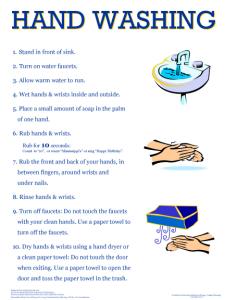 Hand Washing Instruction Poster
The media used to create this image was: Microsoft Powerpoint. This is an 18 x 24 poster about hand washing protocol for elementary school children.
Comments (1) | Add a Comment
Dear Bridgette,
Hello my name is Emily Little and I am the Community Health Committee Chair for the NSNA. Thank you so much for sharing with NSNA your project that you completed through your community health class. I would love to hear more about what you did and I was curious as to whether you are going to be attending the Spring 2008 NSNA convention in Grapevine, TX and if you might consider presenting your project as part of a workshop that I am doing. I want people to have examples of projects that work so that they can be inspired to try to do their own. Please contact me through email. Thanks so much for sharing. Emily Little
Emily B. Little | emily.little@umit.maine.edu | February 04, 2008